Bistahieversor sealeyi

Etymology

Bistahi (For a place in New Mexico, USA) Destroyer

Size

30 feet long, 14 feet tall

Weight

3 short tons

Diet

Carnivorous: Hadrosaurs, Ceratopsids, etc.

Habitat

Desert, Forested area covered in ferns similar to a modern deciduous forest (Yet the dominant trees in this area were conifers)

Fossil Range

77-74 million years ago: Living for approximately three million years

Location

New Mexico, USA

Did You Know...

It may have been the ancestor of T. rex?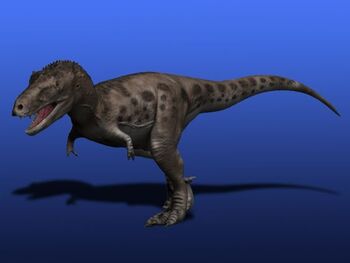 Bistahieversor sealeyi is a genus of tyrannosaur that may have been the ancestor of Tyrannosaurus rex.
It was the largest basal tyrannosaurid. At 30 feet (8.8 meters) long and 1 ton, it was easily the top predator in it's environment.
Bistahieversor lived in the Mid-Campanian about 75 million years ago in New Mexico.
Classification
Edit
Superorder: Dinosauria
Order: Saurischia
Suborder: Theropoda
Unranked: Coelurosauria/Tyrannoraptora
Superfamily: Tyrannosauroidea
Family: Tyrannosauridae?
Genus: Bistahieversor
Species: Bistahieversor sealeyi
Bistahieversor sealeyi fits into the superorder Dinosauria obviously, skipping down, T. rex fits in the unranked suborder Coelurosauria, the superfamily Tyrannosauroidea, possily the family Tyrannosauridae and the genus Bistahieversor.